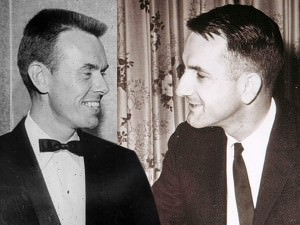 Craig Gaulden Davis was formally established fifty-four years ago, on July 1, 1957. Clemson University classmates Kirk Craig and Earle Gaulden organized Craig and Gaulden Architects after Kirk had finished graduate school at Harvard and Earle at Georgia Tech.
Bill Davis, who was a student of Kirk's at Clemson, joined the firm in the 1960's.
The founding partners were realistic about the challenges of practice. In letters to Earle sent from Harvard in late 1956, Kirk said he was ready to "begin starving". The upstart firm planned to make a name for themselves  by offering architecture that both served and inspired their clients, and joked that they should locate their office on the outskirts of town, "so they'd have a short haul when they ride us out on a rail."
Neither concern panned out.  More than a half century later, Craig and Gaulden's legacy is alive and well, and committed to equipping those who teach, lead, serve, and inspire to transform their communities.