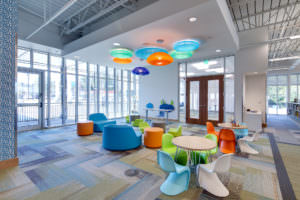 In association with Stanley, Love-Stanley, P.C., Smith Dalia Architects, and McAfee3, CGD has completed and celebrated the opening of three new libraries in Fulton County, Georgia over the past year and a half. The libraries, Metropolitan Branch, Southeast Atlanta Branch, and South Fulton Branch, have combined for numerous design awards. Each branch sits on a unique site and serves a distinctive neighborhood, thus an individual design approach was taken to all three.
The Metropolitan Branch (pictured) provides ample outdoor public grounds to support library programs and community events. Four freestanding Doric columns that once supported a church portico formerly on the site give the outdoor space a subtle boundary and function as dramatic and highly visible place markers. A transparent and contemporary exterior draws patrons in from the outdoor space to the light and playful interior space.
The Southeast Branch has a colorful interior scheme that activates the space. Ceiling clouds and floor material changes designate and get a cozy feel to what would otherwise be reading areas lost in the middle of open floor space. Large glass panels separating meeting rooms from the large circulation area provide acoustic privacy while maintaining an open feel throughout the space. Outside, organized simple geometric forms of varying materials give the overall edifice an appropriately playful yet bookish feel.
The South Fulton Branch is on a site where extensive efforts were made to preserve a 'wooded backyard'. Design efforts focused on the dense area of trees on the site; a long, curved floor to ceiling storefront window wall stretches across the back of the collections area, affording patrons an alcove that overlooks the trees. The woodland themed is not forgotten within the library; an expansive custom wall covering that features an array of animals enlivens the children's reading area. Further, each end panel on every bookshelf displays a large tree end grain graphic.