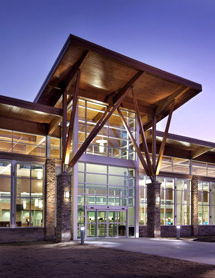 The South Carolina Chapter of the American Institute of Architects recognized Craig Gaulden Davis' design for a library in Covington, Georgia with the 2011 Committee on the Environment Honor Award
Porter Memorial Library, part of the Newton County Library System, is Georgia's second LEED Gold Certified Library and relies on day-lighting, an efficient exterior envelope, regional and recycled materials, and rainwater harvesting to save operating costs.  An open floor plan and raised access floor system allow the client to easily reconfigure space in the future.
Porter was finished in late 2010.