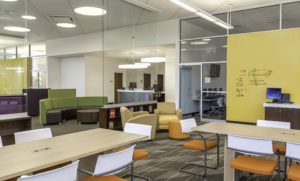 Craig Gaulden Davis is designing exceptional learning spaces that are transforming what facility design can contribute to education.  One recent example is the media center renovation at the Legacy Charter Early College Middle and High School in Greenville.  Once a dark, unwelcoming space, it has been reimagined as an open and bright collection of learning centers that promote connection, flexibility and discovery.
The first step was to integrate the academic needs and purposes expressed by school leadership with cutting edge developments in education facility design focused on the way students learn and conduct research today, and anticipating developments in the future.  Legacy is an Early College Program for grades 6-12, meaning that the school promotes a college-going culture where every student can develop the skills, knowledge and attitudes necessary to attend college.
Our design team proposed making the media center a campus center, drawing together all learning components.  The design features multiple layout configurations, supporting students working alone, in small groups, and within their middle and high school cohorts.  As in a college setting, the spaces are technically enriched, flexible and collaborative with colorful writable walls and flexible furniture to support comfortable study as well as focused, engaged reading.  Digital technology is essential developing information literacy skills but must not take the place of a carefully selected collection of books.  At Legacy, the collection of printed books lines the back walls on the old shelves, preserved to tie the rich history of the old to the new facility.