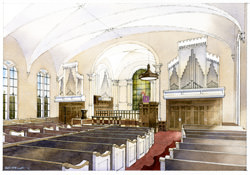 First Presbyterian Church (PCA) has engaged Craig Gaulden Davis to design renovations to its historic sanctuary in downtown Augusta.  The measures will improve audio, video and lighting system, and update finishes.  Reconfiguration of the Chancel will offer worship leaders greater flexibility.
The sanctuary was originally designed by South Carolina architect Robert Mills and dedicated in May 1812.  The structure has been renovated a number of times since.
Construction is expected to start in June 2012 and finish in early 2013.