Every year, in each of the cities and towns it serves, Bellsouth publishes a new phone book.  On the cover of each is an image the publisher hopes will be emblematic of the community.  In many, the image chosen will be a project designed by Craig Gaulden Davis.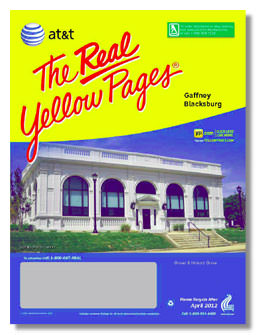 For Gaffney, South Carolina's directory, the project is its new Visitors Center, a renovation and restoration of the former U.S. Post Office.  The prominent federalist building was originally constructed in 1913 and held a position overlooking the city.  A wing was added in the 1960's and a commercial enterprise occupied the building from the late 1980's until recently.
The building's large arched windows, detailed facade work and cast iron lanterns were restored. The groin vaulted ceilings and terrazzo flooring inside the original structure were also restored and converted into the central reception space for the new Visitors Center.   The renovated interior now houses an art gallery and working studio spaces for local artists.
The Gaffney cover is the 8th such "phone book recognition" since CGD started taking note of the phenomenon.