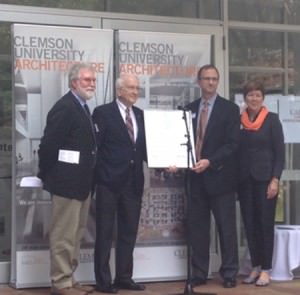 Earle Gaulden and Ed Zeigler accepted the Clemson University Inaugural Architecture Alumni Achievement
Award in memory of Kirk Robins Craig, FAIA, '51.  Kirk was described as a "Visionary, gentlemanly co-founding
principal of a regional firm, known for innovation and community engagement, who changed the face of Greenville."
In this season of thanksgiving, we express  deep appreciation for our clients, friends and families, and strive to continue the firm founders' legacy of design excellence and client service. Read more about the award at Upstate Biz SC.