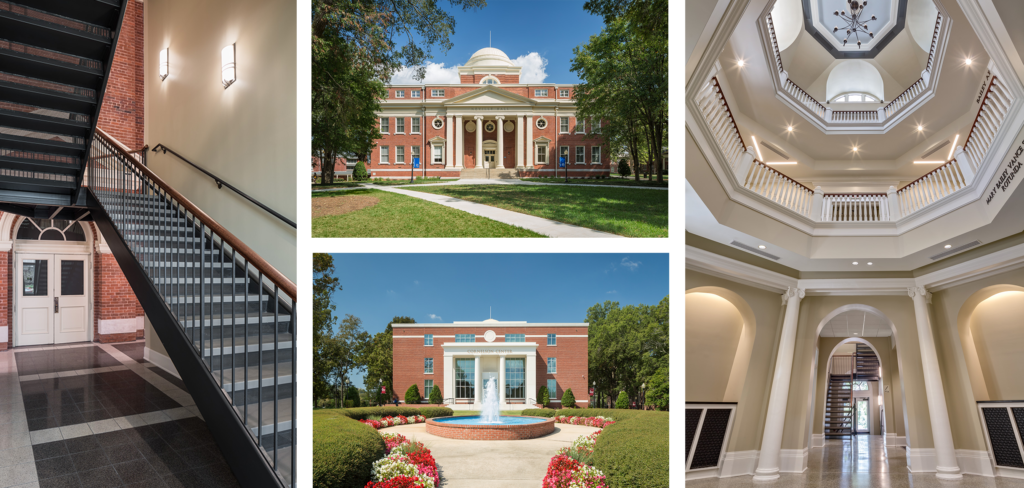 The architectural icon of Presbyterian College (PC) in Clinton, South Carolina is Neville Hall. The domed, Georgian Revival style centerpiece of the historic liberal arts campus was designed by noted South Carolina architect Charles Coker Wilson and made its stately appearance in 1907. Neville Hall has served PC in multiple capacities over the years, leaving a sense of nostalgia for those who have passed through its doors.
Commissioned to restore the grandeur of the original design, Craig Gaulden Davis launched an intensive study of the building's condition and historical significance, paying particular attention to the central rotunda that had been concealed by decades of renovations. Working closely with faculty, administration and board members to execute this dream, the rotunda's majestic volume now connects each floor to the octagonal main entrance and floods the interior with natural light. The dazzling geometry of the sculpted ceiling, arched windows, ornamental railings and custom chandelier provide a remarkable composition of architectural delight.
CGD was also challenged to provide a sensitive addition to the back of the historic structure, activating the green space that defines the heart of campus and to provide additional academic space and a new student lounge. Named the Cornelson Center, the addition features a stone and glass entrance portico that honors the character of the original building while asserting a more contemporary design. The interior décor features updated finishes and furnishings with upgraded mechanical, electrical, lighting and technology systems to establish a crisp, clean, state-of-the-art aesthetic. As a tasteful link to Neville Hall, a portion of the original façade and rear entrance is prominently preserved in the stairwell adjacent to the student lobby.
Though a century of architectural methods and materials have passed, the spatial experience between old and new is intentionally seamless as it parallels the narrative of Presbyterian College's academic foundation and continued commitment to cultivating subsequent generations of scholars.