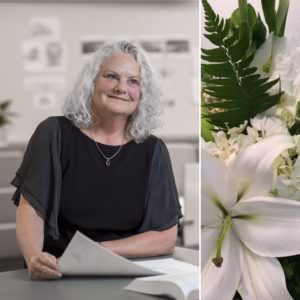 Today is Administrative Professionals' Day. Given her depth of knowledge on office history and goings-ons, ability to keep us all on track and the office running smoothly, skill to simultaneously manage a range of tasks from drafting proposals to pleasantly greeting visitors and phone callers, it seems inadequate to simply refer to Kim Poole as our in-office administrative professional. She does it all and will even pause to discuss rare vinyl finds and vintage roadsters. In fact, it was an affinity for timeless sportscars that played a role in Kim's hiring at CGD 32 years ago. Kim recalls it all below, in her own words:
"Kirk Robins Craig was born on New Year's Eve 1929 in Greenville, South Carolina.  He passed away on March 29, 2007.  Prior to establishing Craig and Gaulden Architects in 1957 with his Clemson classmate Earle Gaulden, he traveled extensively in Italy and France.  It was on one of those travels abroad that he took possession of a 1955 Austin Healey 100.  He drove it all over Europe before relinquishing it for an overseas voyage to the US in a shipping crate.
I learned about the car on the day I interviewed for what has now become my 32 year journey with Craig Gaulden Davis.  Education and past employment aside, I included a 'hobby" on my resume that read, 'Enjoy tinkering with sportscars.'  Following the formalities of the initial dialogue, our conversation turned to our mutual fascination for open top roadsters.  Probably the only time in history that arriving for a job interview in a 1973 Alfa Romeo Spider helped cinch employment!
Kirk and I enjoyed sharing many automotive stories over the years. The '73 Alfa is no longer a resident of my garage, but I know that Kirk would be thrilled that his Austin Healey is being painstakingly restored piece by piece by a good friend, who reports, "It is totally disassembled, in primer and waiting for welding on rust repair."  I am granted garage visiting privileges and hopeful for an opportunity to run Kirk's Healey through the gears when the restoration is complete, accompanied by his red scarf."